We're finally back from maternity leave!!  Excited to share what we have been up to and our new recipes with you ♥
Our newest addition is now 4 months old and full of smiles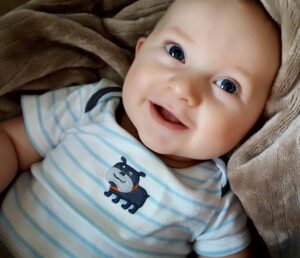 Thank you for all the well wishes while we were away!!  Now on to the food!!!
Farmer J is a huge Thai and curry fan.  He makes the most delicious dishes using some yummy ingredients.  Earlier this week he made a Massaman curry using rabbit.  This dish will work with Chicken or turkey as well.
Ingredients:
• 1 pound rabbit meat cubed
• 2 large potatoes, cut into chunks
• 2 large carrots, sliced
• 2 cups chicken broth
• 1 14 -ounce can coconut milk
• 3 Tbls coconut oil OR vegetable oil
• 1 large shallot, sliced
• 2" piece fresh ginger, minced
• 4 large cloves garlic minced
• 1 stalk lemongrass, minced
• 3 kaffir lime leaves
• 1 teaspoon turmeric
• 1 tsp ground coriander
• 1/2 tsp ground cumin
• Zest and juice of ½ lime
• ¼-1 tsp red pepper flakes to your desired spiciness
• 1 Tbls red curry paste
• 1/4 cup chopped dry-roasted cashews
• Cilantro, additional cashews and the other half lime for garnish
Instructions:
Heat oil in large pot over med-high heat. Add the curry paste, turmeric, coriander, cumin and red pepper and stir for 1 minute.
Add the meat and stir well to coat. Brown for 2-3 minutes.
Stir in the shallot, ginger, garlic, lemongrass and kaffir leaves.
Pour in the broth then add the coconut milk and lime zest and juice and reduce heat to low.
Simmer for 30 minutes to 1 hour to allow flavors to mingle and tenderize the meat.
Add the potatoes, carrots and cashews and simmer for another 15-30 minutes until vegetables reach desired tenderness.
Serve over plain steamed rice or quinoa and garnish with cilantro, chopped cashews and a wedge of lime.
*Notes: Many recipes call for fish sauce, of which I intended to add 3 Tbls. I forgot to add it and the flavors were perfectly wonderful without it. Also, if you cannot find kaffir leaves, you could substitute bay leaves.
*Note: I am a participant of the Amazon.com associates program.  This is an affiliate advertising program designed to provide a means for sites to earn advertising fees by advertising and linking to amazon.com.  I have personally purchased or researched all of the products linked and will not suggest a product otherwise.  By purchasing through these links you support this Mini Slice of Farm blog without any extra cost to you and allow us to continue posting great content for you.  Thank you for your support!!