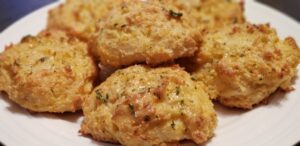 Sometimes you really just want that bread from you favorite spot but you don't want to go out for it. This is one of our favorites and it's easy to replicate at home
INGREDIENTS:
2 Cups all-purpose flour
1 Tbls sugar
1 Tbls baking powder
2 tsp garlic powder
1/2 tsp salt
1 Cup buttermilk
1/2 Cup unsalted butter, melted
1 1/2 Cups shredded sharp cheddar cheese
ON TOP AFTER BAKING
3 Tbls butter, melted
1 Tbls chopped parsley leaves (Fresh or Dry)
1/2 tsp garlic powder
1/4 tsp onion powder
DIRECTIONS:
Preheat oven to 425 F. Line a baking sheet with parchment paper or a silicone baking mat; set aside.
In a large bowl, combine flour, sugar, baking powder, garlic powder, and salt.
In another bowl, whisk together buttermilk and butter. Pour mixture over dry ingredients and stir using a rubber spatula just until moist. Gently fold in cheese.
Using a 1/4-cup measuring cup, scoop the batter evenly onto the prepared baking sheet. Place into oven and bake for 14-16 minutes, or until golden brown.
For the topping, whisk together butter, parsley, onion powder and garlic powder in a small bowl. Working one at a time, brush the tops of the biscuits with the butter mixture.
Serve immediately.